Seeing The Sights From Chicago To St Louis
If you are chartering a bus from the windy city to Oklahoma City, add some spontaneity to your trip and stop at some cool locations along the away. From St. Louis to the Mark Twain National Forest, there are many sites you would not normally see unless you're traveling by bus.
We've put together some places along the way that will turn your trip into the best one yet.
Paddleboat Quarry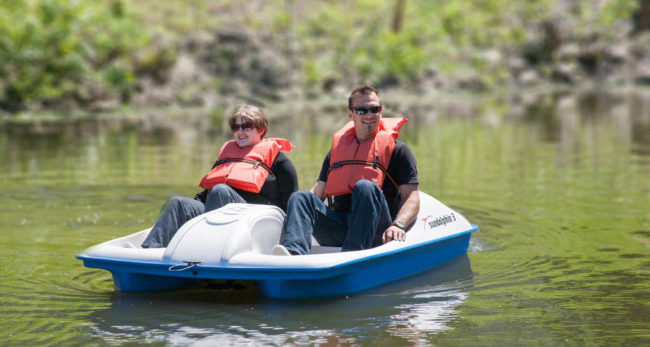 If anyone in your group is a fan of water sports, stop in Naperville and go kayaking on Quarry Lake. This stop is only 48 minutes outside of Chicago, but it allows you to have some quality outdoors time before you being your journey to Oklahoma City. Rent as many kayaks as you need at the Riverwalk Café and and enjoy some time on the water!
Bloomington
Bloomington, IL is full of various arts and historical sites that attract many tourists throughout the year. This city is full of many attractions you won't want to miss.
The Miller Park Zoo is home to various species of mammals and reptiles. Come check out the new edition of Snow Leopard cubs and Harbor Seals and get a feel for what it's truly like to be in the wild. Take a tour of the zoo or enjoy a ride on their animal themed carousel ride. A number of events occur here monthly so make sure you check out what is going on before you arrive.
For those of you in your group that are history buffs, you have to check out the David Davis Mansion. The Victorian architecture of this building represents the rich social culture of America's Western frontier from the 1850 to 1880s. Take a tour of this home and learn about technology, cultural, social and architectural elements of the Gilded Age. Come and explore the past with your group and enjoy an experience you will never forget.
St Louis
We know your final destination is here, so figured it was necessary to give you some ideas of places to visit. Located on the Mississippi River, St. Louis is home to some of American's most beautiful architectural developments and attractions. One as one the primary areas Lewis and Clarke explored in the 19th century, the Mississippi River is frequently enjoyed by paddlewheelers.
One site you and your group absolutely have to see is The Gateway Arch. One of St Louis's most famous landmarks, this monument symbolizes the nation's westward expansion and accomplishments of early pioneers. Thought of and built in the 1960's, people have come from all over the country to see this site for decades. With a tram that takes you on a journey to the top, catch breathtaking views of the entire city. There is also an expansive museum underneath the arch for your enjoyment. This is one memory you will cherish for the rest of your life.
Take a stop and indulge yourself in nature. The Missouri Botanical Garden has been around for 155 years and it keeps on growing and is considered a national historic landmark with more than 4,800 trees. Some of the exhibits include Japanese, Chinese, English Woodland, Ottoman and Victorian district gardens. Come and take a long walk and stretch your legs through some of the most beautiful gardens in the state.
The Missouri History Museum showcases the important events that occurred in Missouri over the decades. This museum features various special exhibits including the "1904 World's Fair: Looking Back and Looking Forward" and "Seeking St Louis." Plan in advance and enjoy their many community events that are held throughout the year, or take a tour of the museum exhibits. This is one museum you will definitely want to add to your trip.
The BBQ Saloon
You and you crew must be hungry right about now. Stop at one of St Louis' most famous BBQ restaurants, The BBQ Saloon. The menu is unmatched, with food like the Kangaroo Burger and The Kitchen Sink Dog. Aside from the food being to die for but, the inside décor combines rustic and modern designs that will make you feel old school. Come grab a bite to eat before you hit the road for the rest of your journey.
We Hope You Had A Blast!
Charter a bus and head on an adventure from Chicago to St. Louis. You will not be disappointed. Call one of our friendly representatives today at 312-667-0906 to book your trip today.
Do you need to rent a charter bus?