Lesser-Known Attractions in Chicago
Let's say you've been to Chicago and you think you've seen all that there is to see (and there's a lot!). From all the typical tourist traps that first-timers visit like The Bean at Millenium Park and the Art Institute of Chicago, to all the different breweries and restaurants. Trust us at Chicago Charter Bus Company when we say you've only begun to scratch the surface of what Chicago and its surrounding sleepy suburbs have to offer.
Today, we're exploring Chicago deep cuts, which are lesser-known attractions in the Windy City and the surrounding area that you are definitely going to want to see. From a ghost town to a fossil museum inside a gem shop to the house from Home Alone, there's no shortage of surprises on this list. 
And if you're looking to go adventuring with a group and need transportation, you're in luck! We can provide you with the perfect Chicago charter bus or minibus rental for your trip. Renting a charter bus in Chicago is more environmentally friendly, cost-effective, and fun, and takes the stress out of driving in traffic, securing rideshares, and navigating unfamiliar areas. If you've never rented a charter bus in Chicago before, and have questions, our 24/7 representatives are happy to help when you call 312-667-0906.
Here's our list of the best lesser-known attractions in Chicago that you can visit.
Green Mill Jazz Club
At the Green Mill Jazz Club, experience live music and a journey to the past at the same time. The club is more than 100 years old, with a rich history of hosting musicians like Frank Sinatra and Charlie Chaplin, as well as American mobster Al Capone, who used the club as a speakeasy during the Prohibition Era. Underneath the club is a series of tunnels, which were used to smuggle alcohol and as a secret escape route for Capone and his mob members. 
Today, the club still hosts well-known modern jazz musicians, as well as the Uptown Poetry Slam, rumored to be the first poetry slam in the world.  
Charter bus parking tip: Green Mill has a parking lot, but it can fill quickly due to the club's popularity. Nearby parking lots are about half a mile away, which may be too far after a night of drinking and enjoying music. Consider renting a Chicago charter bus; your driver can drop you off, head back to the hotel, and pick you up safely and soundly.
Address: 4802 N Broadway, Chicago, IL 60640
Phone: (773) 878-5552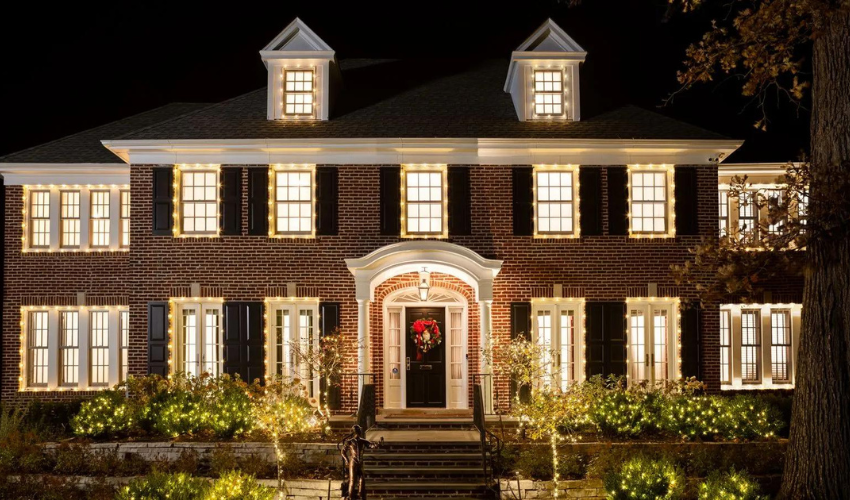 The 'Home Alone' House
Ever wondered where the famous McCallister House from Home Alone is located? It's in a suburb about 16 miles outside of Chicago called Winnetka. The home has six bedrooms and six bathrooms and sold for around $1.5 million in 2012. Many neighbors report seeing people taking photos of the house almost every day, especially during Christmas. If you go, be sure to respect the privacy of the current owners by staying on the sidewalk to observe the home.
Charter bus tip: A charter bus rental from Chicago Charter Bus Company allows you to add any stops you want on your itinerary, including stops outside of the city like the McCallister House. Explore Chicago and the surrounding areas on your own time, at your own pace.
Address: 671 Lincoln Ave, Winnetka, IL 60093
World Records of Casey, Illinois
The world's largest collection of the world's largest objects is in an unassuming town outside of Chicago called Casey. Head downtown to see the world's largest golf tee, wind chime, knitting needles and crochet hook, mailbox, birdcage, and rocking chair. The sculptures range from 30 to 60 feet tall, and each is the biggest of its kind in the world. 
While you're in town, eat at Richard's Farm Restaurant on 607 NE 13th St. The homestyle restaurant currently boasts a 60-foot-long pitchfork weighing almost 2,000 pounds.
Charter bus tip: The world record town of Casey is about three and a half hours outside of Chicago. For reliable group transportation, you can rent a charter bus from Chicago Charter Bus Company. We operate in Chicago and all the surrounding areas and can secure a charter bus rental for all group sizes and occasions.
Address: 101 W Alabama, Casey, IL 62420 (various locations)
Abandoned Town of Cairo, Illinois
You're not going to want to miss seeing the town of Cairo, Illinois. Once a thriving city, it was torn apart by race wars and violence dating back to the 1960s. Today, the town of Cairo is filled with decaying structures and shuttered businesses, with less than 2,000 people living there and almost no businesses except for the public library. The abandoned downtown serves as a haunting journey through what once was.
While it may be a five to six-hour trip from Chicago, you can hire a professional driver to take you on the trip to Cairo. We offer bus rentals for different group sizes and occasions and are happy to add Cairo to your stop. Just let a representative know when you call us at 312-667-0906 and tell us about your trip.
Address: 1501 Washington Ave, Cairo, IL 62914 (Municipal building)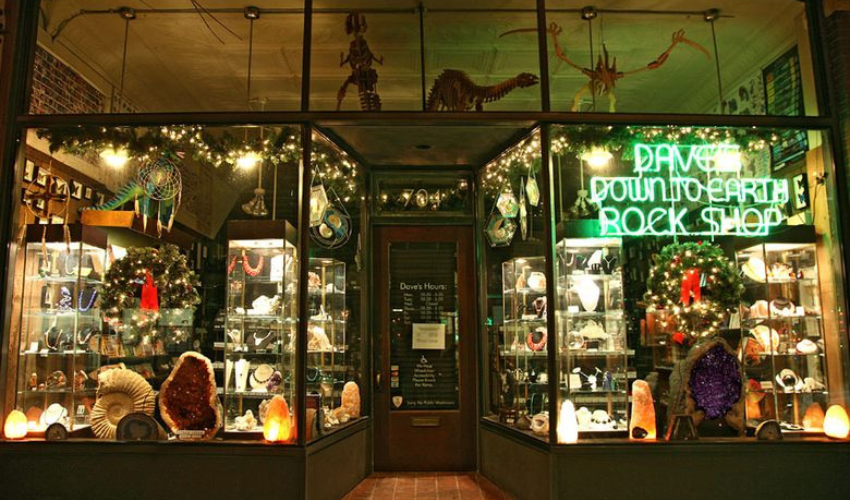 Dave's Down to Earth Rock Shop
With a laid-back atmosphere and owners with an earnest passion for geology, Dave's Down to Earth Rock Shop lives up to its name. The Evanston staple has been a part of the community since the 1970s, and sells everything a budding earth enthusiast needs, like gemstones, fossils, jewelry, crystals, and more geological essentials. 
What makes the shop even more unique is the dinosaur fossil museum it houses in the basement. The museum has fossils from every geological time period, dating all the way back to three billion years ago, including small dinosaurs from China, amber with encased insects from Mexico, and more.
Address: 711 Main St, Evanston, IL 60202
Number: (847) 866-7374
Obama Kissing Rock
Former President of the United States Barack Obama and his wife, Michelle, have a beautiful and well-known love story. Obama once recalled the first time he ever kissed Michelle, in front of a Baskin Robbins at 53rd and South Dorchester in Chicago. To commemorate this sweet moment, an adorable plaque was installed outside the location, which is now a Subway franchise. 
The plaque is encircled by bright orange flowers, and has a photo of the couple along with a quote from Obama himself about the magical moment: "On our first date, I treated her to the finest ice cream Baskin-Robbins had to offer, our dinner table doubling as the curb. I kissed her, and it tasted like chocolate."
Address: 53rd & South Dorchester, Chicago, IL, 60615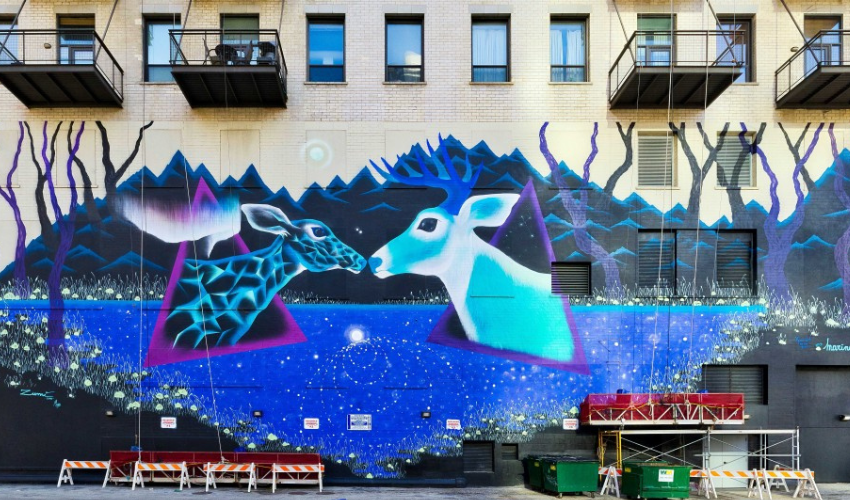 Wabash Arts Corridor
Visit the Wabash Arts Corridor to see some of the best street art in the Chicago area. The area features large-scale art and adds new artwork every year, earning it the nickname of "a living urban canvas." Most of the art in WAC can be seen from the sidewalk, so be sure to wear comfortable shoes. You can explore the area on your own, or take a one-and-a-half-hour guided tour. 
If you have accessibility concerns, the sidewalks in the area are relatively smooth and have plenty of curb cuts for wheelchair accommodations. Chicago Charter Bus Company also offers ADA-accessible bus rentals in Chicago if you want to visit the area with a larger group.
Address: South Wabash Avenue, Chicago, IL, 60637
See the Hidden Side of Chicago With Us
Here at Chicago Charter Bus Company, we are dedicated to giving you the best possible experience. We understand that the journey is part of the destination. So when you're ready to rent your Chicago bus with us, feel free to give us a call at 312-667-0906. Whether you've never rented a charter bus before, or have rented hundreds, we will walk you through every step of the way with an experienced and caring support team. Safe travels!
Do you need to rent a charter bus?